Kay Fedewa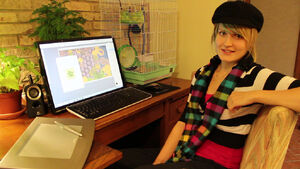 Kay Fedewa is the art director for At the Gates. She is a Michigan native and has been making art since she could hold a pencil. In her free time she not only reads but also creates graphic novels. Kay has also been a fan of computer games from an early age.
Kay's other hobbies include learning about science and nature. She's an avid fan of documentaries, and has seen hundreds relating to these subjects. Kay also owns over fifty plants and several pets, including a dozen crested geckos, a sugar glider, two parrotlets and a domesticated Siberian fox named Anya.
As art director, Kay's goal is to ensure At the Gates features a fresh, clean style that's immediately recognizable and doesn't get in the way of the game. She's very much rooting for the success of the Kickstarter campaign, as the funding will allow the team to flesh out much more of the game's art.